Field trip to Philips Research Laboratories
22 November 2018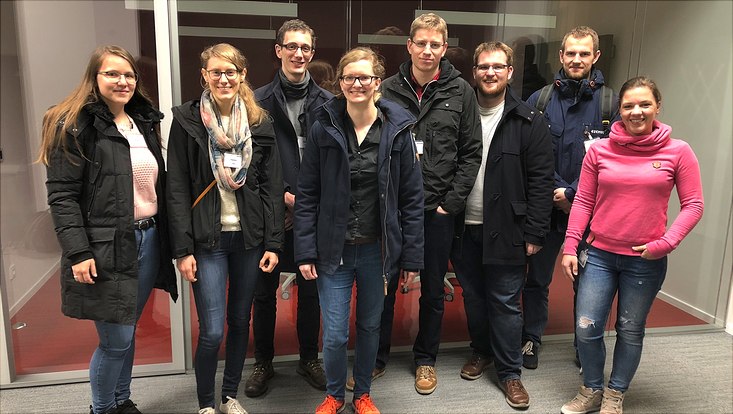 Photo: Studentchapter Hamburg
On November 22, we had the opportunity to visit Philips Research Laboratories in Hamburg.
The field trip started with a guided tour through the facilities for X-ray tube assembly, where we were impressed by the multi-stage quality control system and learned many interesting details about innovations introduced by Philips, for example in the cathode engineering. One of the special highlights was to see the spinning red-glowing electrodes during the process of vacuum pumping.
After that, we were greeted cordially by members of the research department and introduced to the Philips Healthcare organization, the history of the company in Hamburg, and its current key aspects of activity.
To give us an impression of their work, four researchers presented some of their recent results, with topics including the recognition and tracing of ribs in CT scans, classification and compensation of motion artefacts in cardiac imaging, modelling of pressure drop distribution in coronary vessels, and spectral computed tomography.
In between the talks we had the chance to see a C-arm, an interventional X-ray system, in action and check out the inner live of an "Überraschungsei" (Kinder Surprise) at an impressive resolution without harming it.
Overall, we had a very rewarding and motivating afternoon. We would like to thank everyone involved at Philips Hamburg, especially our contact person Lena Frerking, for organizing this great event.
---